Hot Picks at the 2018 Fairs by Media Experts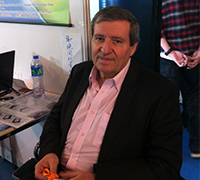 It's the first time I come especially for this show and I must say it's a nice surprise. You can not only find what you need but also a lot of suggestions in decoration, healthcare, pet care and hardware. They are classified very clearly and easy to identify. The buyers can immediately find what they are looking for and attracted by all these different items which can also help them to find plenty of new ideas to complete the sourcing for their business. What I really like is the lifestyle "feeling" I found everywhere and it makes the fair so pleasant to visit.
Philippe Mechin, Reporter, BM2C Media (France)

Teapot with LED light
IgGENE Limited (Hong Kong)
Booth no.: 1A-C32

Sleeping Bag
HOK SPRL (Belgium)
Booth no.: 3C-A21

Plastic Chandelier
Fuzhou Nicrolandee Art & Crafts Co., Ltd. (Chinese mainland)
Booth no.: 3CA08

Storage Box
Homecosy Inc. (Taiwan)
Booth no.: 3D-D36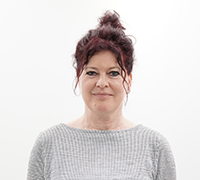 I like the mixture of worldwide trends and traditional local products. For me, it's important to export some foreign inspirations back for home. I also like the trend presentations to set an overview about what's going on regarding global lifestyle and its emotional context - and the growing significance of sustainability – plus the combination of recycling and style.
Annette Gropp, Freelance Journalist, Handles Digest (Germany)

Ecofriendly Tableware
Taiyo Chemicals Company Limited (Japan)
Booth No.: 1C-C20

Cup with Lid
Chaozhou Happy Life Ceramics Factory (Chinese mainland)
Booth No.: 1B-A41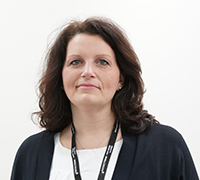 This is my first time here in the HKTDC Hong Kong Houseware Fair and it surprises me. I found a lot of interesting products and original ideas. I appreciate the Startup Zone where I have seen a lot of products that are connected with technology.
Monica Sposito, Journalist, Casatile (Italy)

VENERE cooking pan
Domo S.p.A. (Italy)
Booth: 3G-E02

Piozio Lamp
I2M Co., Ltd (Korea)
Booth: 3D-D29
The HKTDC Hong Kong Houseware Fair is a very interesting exhibition. There are many innovative and user-friendly products, for example, the outdoor water bottle and cosmetic cooler.
Wachira Atiprasertkul, Senior Content Writer, Builder News (Thailand)

Outdoor Water Bottle
Mochic Household Products Co Ltd (Chinese mainland)
Booth: 1B-E18

Cosmetic Cooler / Mini Fridge with LED Display
Shenzhen Freecool Science and Technology Co Ltd (Chinese mainland)
Booth: 3G-S51
Speakers' Insight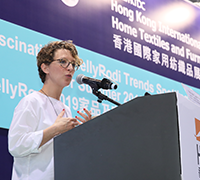 Lea Czermak, Senior Creative Project Manager, NellyRodi
Consumers were eager to explore new solutions and built-in modularity in more functional and streamlined collections.
Four consumer types identified homewares in varying colours, materials, shapes and moods presented to inspire buyers' new decorative concepts and ideas to home for summer 2019.

Vital Vibe
A type of consumer that identified with a laid-back Californian vibe

These consumers would be keen to see products made of new resins and composite materials that were presented in natural colours, but also items crafted from sustainable sources, such as wood and cane that might be shaped by plaiting and weaving.

Magnetic Mix
Consumers inspired by a science-fiction-fuelled future – shiny, sleek and high-tech

Buyers could tap into this market by delivering products that combined aesthetics and subtle technology, in modern textiles, sustainable plastics and creative shapes, in shades of green, blue and violet. Iridescence and pearlescence, chrome and frosted finishes, and pastel walls and surfaces were offered as design trends.

Colonial Chic
Shoppers that like to mix and match, filling their homes with exotic plants and collections that are elegant, precious and high-end

Demand for classic and heritage shapes with a twist, which may have been inspired by the Baroque or Colonial eras of Western history. Design ideas included darker and more sophisticated shades, including blue, brown and gold; exotic shapes and unusual fruit motifs; intricate details; and well-designed decorative objects.

Super Solarium
A group of consumers fascinated by experimental design, brilliant light and electric primary colours everywhere

Tribal designs, seaside motifs, recycled and up-cycled goods, the psychedelic and the 1960s were touchpoints that buyers could look to for inspiration.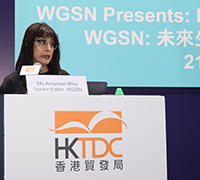 Anupreet Bhui, Senior Editor, WGSN
Four lifestyle directions that will most influence the agency's clients for the next few seasons outlined below.
Being Connected
Retailers were doing less with more by offering fewer brands in smaller spaces, and increasing the sense of exclusivity felt by consumers.

The trend to connect for home includes digital communications and technology.
Artificial technology will continue to evolve, creating an ambient technology that went far beyond the auto-replenishment functions of Amazon's "Dash' buttons.

Being Flexible
Energy efficiency, storage, flexible floorplans and doing less with more were all important drivers of consumer behaviour. The flexible home was also a personalised one, where consumers wanted to express themselves – and were prepared to pay for it.

Being True
Lifestyles are moving away from status and materialism, and towards being more mindful of consumption and the people around. Brands are also reacting to these trends by going back to their roots, and producing essential product ranges that are flexible, sustainable and long-lasting.

Being Well
Retailers have incorporated the feeling of homeliness through textures and soft furnishings in creating welcoming spaces. The "mood boosting" power of colour, crystals, lighting and music were leveraged by retailers to offer wellness and unique experiences that met a consumer desire for self-improvement.
More details: http://event.hktdc.com/fair/hkhousewarefair-en/s/11369-For_Press/HKTDC-Hong-Kong-Houseware-Fair/PressRelease.html


Buyers' Insight
Japan
Installing smart home devices and having a robot helper at home were getting very popular in Japanese household nowadays. This would result in the increase in demand of tech products and smart home devices in the future.
Brazil
Silicon kitchen products (such as silicon gloves) and time-saving household gadgets (such as hand-rolling fruit skin pillar) have been increasingly popular in Brazil these years.
Malaysia
With increasingly demand of affordable houses in the country, it is expected to have an improvement in property markets after nation's general election. A sustainable growth in building materials can be foreseen due to the ongoing public infrastructure projects, e.g. East Coast Rail Link, MRT and KL-Singapore High Speed Rail.
Myanmar
Hotel business in Myanmar will be rising and more international hotels are coming, so it is a promising sign for hotel-supply business.
Chinese Mainland
With the much higher quality of life and the rapidly increasing purchase power in the recent decade, the demand of luxurious, high quality and fashionable houseware items have also been increasing tremendously.