Chinese Medicine Fair and Conference highlights Cancer Treatment
"Beauty & Fitness" Zone added to the Variety of Product Line-up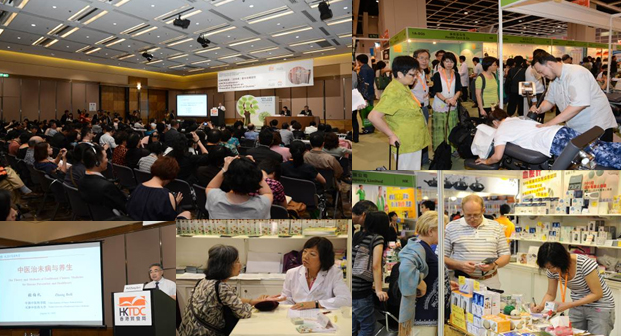 High-re Photos download: http://filesharing.tdc.org.hk/hktdc/download.php?fid=_php7vg8Sv
June 7, 2013 - Jointly organised by the Hong Kong Trade Development Council (HKTDC) and the Modernized Chinese Medicine International Association (MCMIA), the 12th International Conference & Exhibition of the Modernization of Chinese Medicine & Health Products (ICMCM) is well received as a leading global platform for the promotion of Chinese medicine and health products. Held at the Hong Kong Convention and Exhibition Centre from 15 to 17 August, the first two days of the fair will be exclusive to trade visitors for extensive business and information exchanges to promote trade development. The public can attend the fair on 17 August to explore and shop for a wide array of Chinese medicines and health products from all over the world.
This year fair is expecting more than 110 exhibitors from Canada, the Chinese mainland, Hong Kong, Japan, Korea, Macau, Singapore and Taiwan, to introduce their regional medicine to the global buyers.
Positive Market Prospects
For thousands of years, Chinese medicine and herbal products have supported the health of Chinese communities around the world. Now the popularity of traditional products and methods has soared worldwide, as people seek safe, gentle and natural solutions. In the first 4 months of 2013, export of Chinese medicine soared by nearly 9% over last year, amounted to USD136 million.
According to Euromonitor International, the market is forecast to have a compound annual growth rate of 8% over the next five years in Chinese mainland. In 2013, Hong Kong Policy Address also mentioned to set up the Chinese Medicine Development Committee, focusing its studies on policies and measures to further the development of the Chinese medicine industry. Coupled with Hong Kong's advantages in re-export trade, international management talents and experiences, well reputed testing and certification service, all contribute to solidify Hong Kong as the key trading hub for Chinese medicine and health products.
Heavy-weighted speakers remark on industry outlook
The two-day professional conference is a major highlight of the event each year. This year, the theme is "The Advanced Research and Development of Chinese Medicine on Cancer Treatment". Worldwide heavy-weighted experts from Australia, the Chinese mainland, Hong Kong, Japan, Singapore, Taiwan and the United States will share their insights into the latest industry developments and research findings, including Professor Cheng Yung Chi from the Yale University School of Medicine of the United States.
Exhibition and Conference run in parallel track
"This year, ICMCM continues to run on a parallel-track format, allowing the extension of the external trade platform for Chinese medicine products while simultaneously gathering together industrial eminence for the exchange of information and for conferring on the direction of Chinese medicine development in the future. The venue will be divided into different zones according to product categories to accommodate different health needs, including Chinese Medicine, Health Supplement, Healthcare & Therapy, Raw Material, Equipment & Related Services, Research & Development and so forth. To meet the prevailing trend of healthy beauty, a new zone of "Beauty & Fitness" is introduced this year, featuring health & beauty, toiletry & personal care products, cosmetic accessories & personal care items and fitness equipment." says Benjamin Chau, Deputy Executive Director of the HKTDC.
Line-up activities on the Fair's Public Day
Public Day will be open on Saturday (17 August). At the Public Forum, coordinated by the City University of Hong Kong, Chinese medicine practitioners will provide advice on how to apply Chinese medicine to daily life. The fair also includes an educational display, brought by the Chinese University of Hong Kong, aims to enhance public awareness of the practical benefits of Chinese medicine, including culinary, massage adaptation or daily exercise.
The HKTDC Food Expo (15-19 August) and HKTDC Hong Kong International Tea Fair (15-17 August) run concurrently with ICMCM. There are plenty of cross-over business opportunities among these three events offering buyers extra sourcing prospects, all conveniently located under one roof.
Fair Websites:
International Conference & Exhibition of the Modernization of Chinese Medicine & Health Products (ICMCM): www.hktdc.com/icmcm
Hong Kong International Tea Fair: www.hkteafair.com
HKTDC Food Expo: www.hktdc.com/hkfoodexpo
Media Contacts:
Ms Toey Ma
Tel: (852) 2240 4404
Fax: (852) 2169 9402
Email: toey.si.ma@hktdc.org
About the HKTDC
A statutory body established in 1966, the Hong Kong Trade Development Council (HKTDC) is the international marketing arm for Hong Kong-based traders, manufacturers and service providers. With more than 40 global offices, including 11 on the Chinese mainland, the HKTDC promotes Hong Kong as a platform for doing business with China and throughout Asia. The HKTDC also organises trade fairs and business missions to connect companies with opportunities in Hong Kong and on the mainland, while providing information via trade publications, research reports and online. For more information, please visit: www.hktdc.com